Skip to Content
Houston's Leading Commercial Roofing Company
Commercial Roofing Services in Houston, TX
Your business' roof is just as vulnerable to the effects of wind, rain, and the intense Texas summer heat as any residential structure. It also needs the same quality of care to keep it functioning optimally, so your building stays dry and protected from the top down. Platinum Construction Solutions LLC offers commercial roofing services for businesses in Dallas, Houston, and San Antonio, TX. Our family-owned and -operated company knows your business operations depend on a fully functional structure, which is why we provide comprehensive services to keep your roof in top condition. We offer free inspections of your roof to identify problem areas and head off any potential workplace catastrophes. We can also provide a free estimate for any repairs to your roof's shingles, wood, or other components.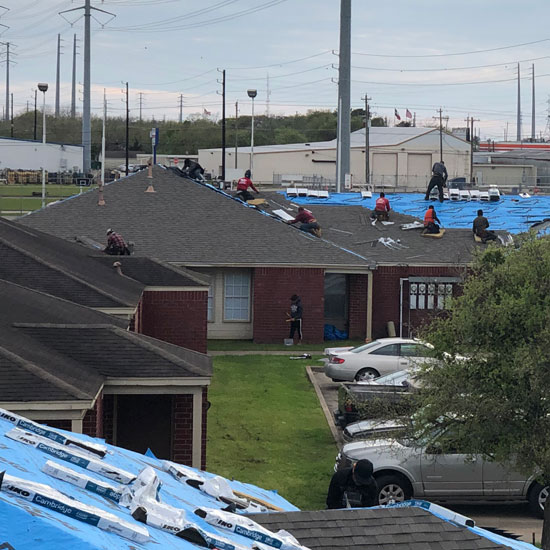 Professional Care for Your Commercial Structure
Platinum Construction Solutions LLC offers commercial roofing services to ensure your structure is sound. We apply our thorough training and experience to every project so that your building is safe from the elements and wildlife. Our services for commercial customers include:
Roofing Inspection
Our roofing team will inspect the condition of your roof, including its shingles and flashing. If we find any issues, we'll alert you and recommend an appropriate service to resolve them quickly and effectively.
Roofing Maintenance
To ensure your business isn't impacted by a sudden roof leak due to neglect, let our experts give your roof the attention and care it needs to stay in top condition all year long. Maintenance is an effective way to extend the function and life of your roof.
Commercial Roof Repairs
With our training and in-depth expertise in commercial roofing, our team performs efficient repairs to your roof with long-term results. Wind, rain, hail, the sun, and animals can all cause damage to your shingles and wood, so make sure our professionals resolve it to protect your building.
Commercial Roof Installations
When you build a structure for your business, let our seasoned team handle the roof installation to ensure you get a high-quality roof. Additionally, if your old roof has outlived its usefulness, we'll install a new one.
Call the Experts for Your Business' Roofing
Let our team address your commercial roofing needs and beat the Texas weather with a roof built and maintained to last. Platinum Construction Solutions LLC is ready to provide the maintenance, repairs, and installations you need with minimal impact on your business operations. Give us a call today to employ over 20 years of combined roofing experience for your property.
Get a Free Estimate on Roofing Services for Your Home or Business